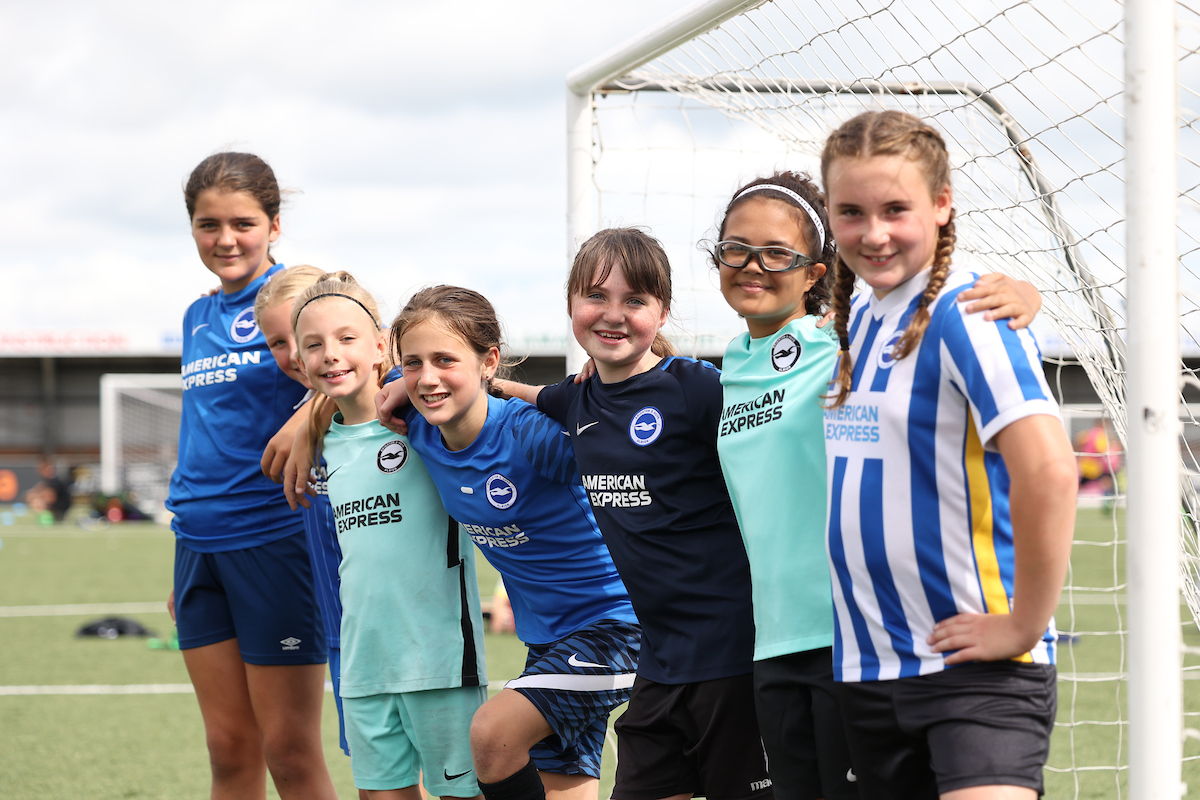 Brighton & Hove Albion Foundation celebrates and values the diversity brought by employees, potential employees, casual workers, potential casual workers, participants, donors and customers and believes the charity benefits from engaging with everyone from a variety of backgrounds, allowing it to meet the needs of a diverse population within a multi-cultural society.
We share and are committed to the standards, values and expectations set by Brighton & Hove Albion, the Premier League, the Football Association, the EFL and Kick it Out, who each assert that football is for everyone and that it belongs to, and should be enjoyed by anyone who wants to participate in it, whether as a player, official, staff member or spectator.
Our commitment
We vow to treat everyone with respect and dignity and seek to provide a positive environment for all of our stakeholders, free from discrimination, harassment, victimisation or abuse.
Our aim is to create a positive, inclusive ethos that will work towards the elimination of discrimination, harassment, victimisation and abuse whether overt or covert.
Our aim is to confront and eliminate discrimination whether by reason of age, disability, gender reassignment, marriage or civil partnership, pregnancy and maternity, race, sex, sexual orientation, religion or belief.
These are known as 'protected characteristics' under the Equality Act 2010.
Read our equality policy by clicking below.
Become an Albion Ally
At Brighton & Hove Albion and Brighton & Hove Albion Foundation, we want everyone to feel at home. The Albion is for everyone, regardless of their background, identity, or circumstance.
Sometimes, there are people who need our help and support to stand up in the face of hate. So, to mark the Rainbow Laces campaign, we want you to become an Albion Ally; to make a pledge and show your support to lesbian, gay, bi, and trans people in our community. Even small acts of solidarity can make all the difference.
We believe by working together and sticking up for each other, we make our community a better and fairer place.
Inclusion of trans and non-binary people
Brighton & Hove Albion Foundation believes that football is for everyone and that it should be enjoyed by anyone who wants to participate in it. We recognise that 'non-binary' and 'trans' are separate identities in their own right and that non-binary people's needs and concerns may differ slightly to those of trans people's, due to the gender segregated nature of sport. In all cases we recognise that gender is always self-defined by an individual.
Are the Foundation's activities inclusive for non-binary people?
Yes. We strive to make all of our activities inclusive and welcoming for everyone. Our staff receive training around non-binary and trans people's inclusion and are regularly invited to update this knowledge. If you have any concerns about accessing our events and services, please call us on 01273 878265 or email info@bhafcfoundation.org.uk.
Can non-binary people attend the Foundation's events that are gendered?
Yes, if they wish to. Sometimes we provide events that are targeted specifically towards male or female gender to meet a specific need (e.g. encouraging participation for women and girls). Non-binary people who see themselves as partially or sometimes identifying with either of these genders and are unsure on whether to attend should contact us so that we can work together to find the most appropriate session for you.
We are committed to challenging discrimination against non-binary people and will challenge behaviour that isn't in keeping with our values. If you have any questions or concerns about your experience at our events, please direct them to development@bhafcfoundation.org.uk, disability@bhafcfoundation.org.uk or info@bhafcfoundation.org.uk and we will deal with these in confidence.
Safeguarding
Brighton & Hove Albion Foundation is committed to safeguarding and ensuring the protection of all children, young people and adults. We view our responsibility for ensuring the welfare and wellbeing of all children, young people and adults who engage in our activities as our highest priority.